We cracked the Frontex code
The EU border police is preventing their answers to freedom of information requests from becoming public. This is thanks to their own, self-built FOI portal – which excludes people with disabilities, too. With our new tool, we're stopping them in their tracks.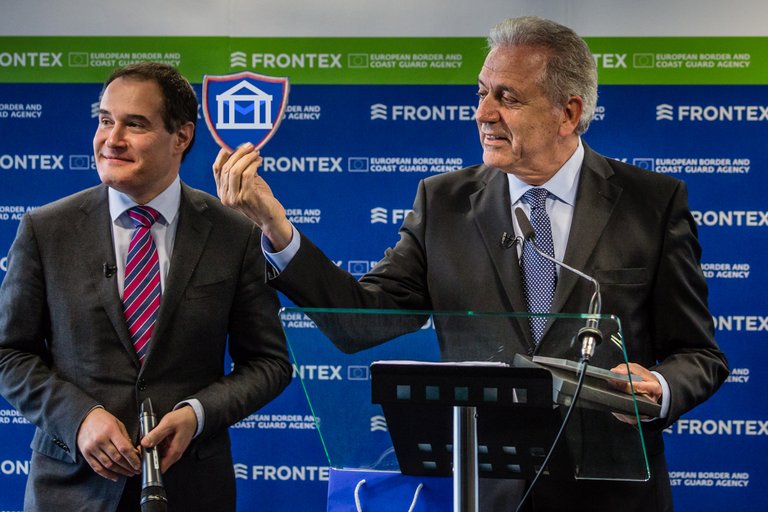 Anyone who sends a freedom of information request by e-mail to the European border police Frontex receives the same reponse:
New information regarding your application is available under this link https://pad.frontex.europa.eu/PadCase...
Together with that link, Frontex sends a set of personalized credentials to access one of their websites. Direct answers via e-mail are nowhere to be seen.  This allows the controversial border police force to avoid providing information publicly to citizens; it's also the agency's means of circumventing platforms like FragDenStaat and AskTheEU.
This system of controlled opacity is made possible by Frontex's own FOI platform called "PAD" (short for Public Access to Documents), which was developed internally by the agency and is entirely in its hands. All requests for information filed to Frontex are handled through the PAD portal, and answers can only be accessed through a personalized login that the agency provides. A few months ago, we already wrote about such platforms and how they're putting obstacles in the way of applicants.
A problem for freedom of information...
The fact that Frontex will only provide answers via its own internal platform is a massive problem for transparency and freedom of information. In the past, Frontex has altered a message that it had already sent using the PAD portal; it can also unilaterally decide to revoke access to the platform at any time, therefore preventing requesters to access their correspondence. Frontex can also monitor when information is retrieved via its platform. And of course, the information and documents that Frontex releases in this way is never accessible to anyone else besides the requester, as it is on FragDenStaat.
Until now, FragDenStaat has asked users to manually download the information from the Frontex portal and upload it to FragDenStaat again, so that whatever one requester obtains can be available and useful to many others as well.
... and accessibility
But the Frontex portal is not only a problem in terms of transparency; Frontex is also violating the EU Accessibility Directive. In order to log into the PAD portal, users have to solve a "captcha": a distorted sequence of letters and numbers must be correctly recognised.

Captchas are meant to prevent automated programmes from doing things that only humans are supposed to do - in this case, retrieving Frontex's answers to requests.
But such text captchas also make the page inaccessible for people with disabilities. This is why the WCAG - the standard set of rules for accessible websites - mandates that there must always be an alternative to text-based captcha. To make a page accessible for people with visual impairments, audio captchas can be offered, for example. At best, however, captchas should be avoided altogether in accordance with WCAG.
Despite this, in order to request information from Frontex, not only the PAD platform is unavoidable, but so are visual captchas.
New: Automatic import of Frontex messages
But this opacity and barriers are now a thing of the past! From now on, you can automatically transfer answers from the Frontex platform to FragDenStaat without having to log into the PAD portal. The only thing you have to do from now on is press the button "Import messages from Frontex" once it appears under a message.

Our servers then automatically log into the Frontex portal and transfer the messages and documents to FragDenStaat. After a few moments, all messages and documents appear in FragDenStaat and will be permanently stored there, out of Frontex's hands.
Machine learning against Frontex
No need to solve a captcha anymore - our servers do that for you. We have solved hundreds of captchas manually and trained a neural network that can now solve the captchas without any human intervention. If you want to know more about how this works, take a look here.
Whether the Frontex PAD portal or Frontex itself: abolish it!
With machine learning, we have created a solution to Frontex's current anti-FOI tactics, but the basic problem remains. All public agencies, including Frontex, should respond to freedom of information requests through the preferred channel of the requester, and not barricade themselves behind their own platforms.
You can read all our articles on Frontex here: