Defund Frontex, Build SAR
11 / 13 in life-depriving policies. An alternative to this model therefore is not only urgently needed - but a long-overdue debt with the lives that have been lost at sea due to years of (in)action. 3. Defund Frontex, Build a European Search and Rescue Programme The right to life is a fundamental and non-derogable human right. It is enshrined in article 2 of the Charter of Fundamental Rights of the European Union, which states that "Everyone has the right to life". For too long now, the EU and its Member States have violated this principle. Through conscious (in)action, the EU has condemned thousands of lives now lost at sea in the Mediterranean. At the same time, any steps taken by the EU have been in one direction only, increased border policing; a political decision which not only knowingly accepts, but actually enables the death of thousands of people at sea. This is a course we must halt and reverse. Respecting and ensuring people's right to life is non-negotiable. It must mean dismantling life-depriving policies and the structures that keep them in place, and divesting these resources into new systems, structures and policies that rescue and create safety. Frontex cannot and will not guarantee safety - but its resources can. Frontex's annual operational budget for the year 2021 is € 370,444,469; with merely a third of this figure, the EU can choose to refrain from causing harm and preserve life instead. We advocate for the creation of a European Search and Rescue Programme - a body with one mission only: to guarantee safety at sea, and to preserve the lives of those in danger. This body - the structures and resources that keep it in place - must be public-led, by the EU and its Member States; it must be run and operated by non-military, non-law enforcement actors only. It must deploy adequate and consistent resources in order to enable it to fulfill its mission. The European Search and Rescue Programme must be the main and priority actor tasked with search and rescue operations throughout the Central and Eastern Mediterranean,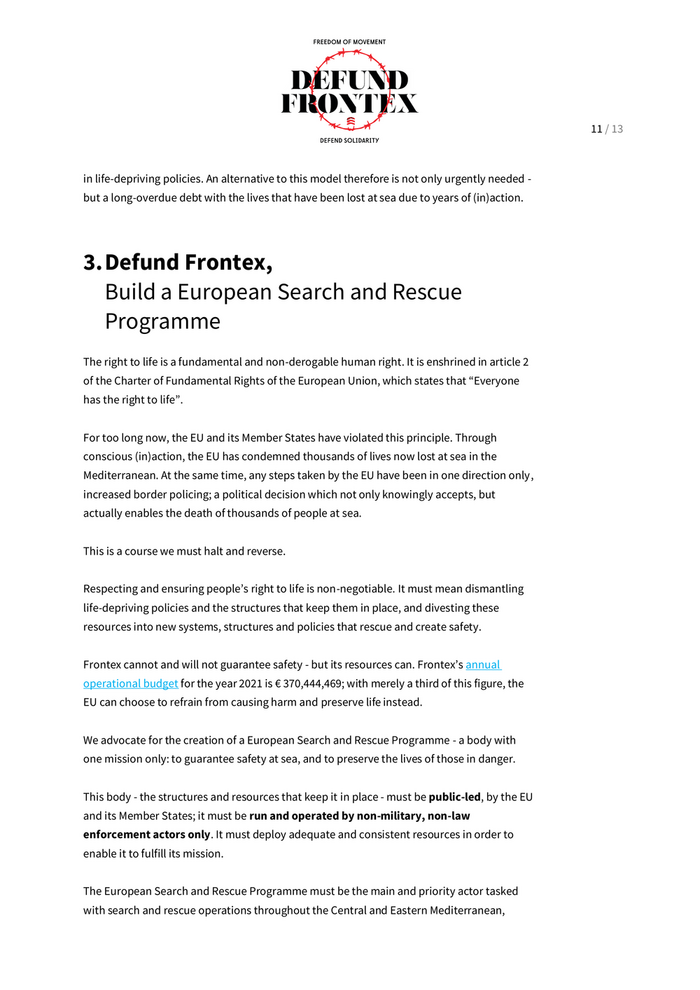 12 / 13 where its fleet must be deployed on a permanent basis. An example of such a programme already exists in the Western Mediterranean. In Spain, Salvamento Marítimo is a public body founded in 1992 and operative since 1993. This public-led, entirely public-financed search and rescue programme has one mission only: to protect life at sea. It is run and operated exclusively by civilians; as such, it is free and independent from all law enforcement-related tasks which would be incompatible with its mandate. With its fleet, Salvamento Marítimo conducts search and rescue operations throughout 1,500,000 km², covering the waters of the Western Mediterranean and parts of the Atlantic Ocean. Its budget for the year 2021 is € 150 million. The Salvamento Marítimo Programme however demonstrates how the creation of a worthy structure is not enough if its resources are not adequately managed and deployed. Salvamento Marítimo's own workers have denounced multiple times how Spanish authorities' decision to increasingly sideline their services in favour of security forces' intervention in search and rescue, as well as resource mismanagement such as staff shortages, severely endangers the programme's life-saving mission. The cost of this policy- driven deprioritization is a tragic and unacceptable one: the Western Mediterranean remains a deadly migration route where thousands of innocent lives are lost every year. Calculations made on the basis of publicly available information demonstrate that a European Search and Rescue Programme is an attainable reality which would require merely one third of Frontex's annual operational budget. By defunding the Frontex operational branch, currently the border agency's main instrument to enforce and promote violence and death at sea, the EU and its Member States can and must choose to protect life instead. They must divest these resources towards guaranteeing safety at sea, putting an end to the harm it continues to cause to date. They must once and for all align with their obligations under international law. The creation of such a European Search and Rescue Programme must, of course, be encompassed by additional and complementary measures: the EU and its Member States must immediately cease all cooperation with - and support to - the so-called Libyan Coast Guard. They must also cease all criminalisation efforts against NGOs, activists and all human rights defenders. All rescued people must be brought to ports of safety, which unequivocally rest in European soil.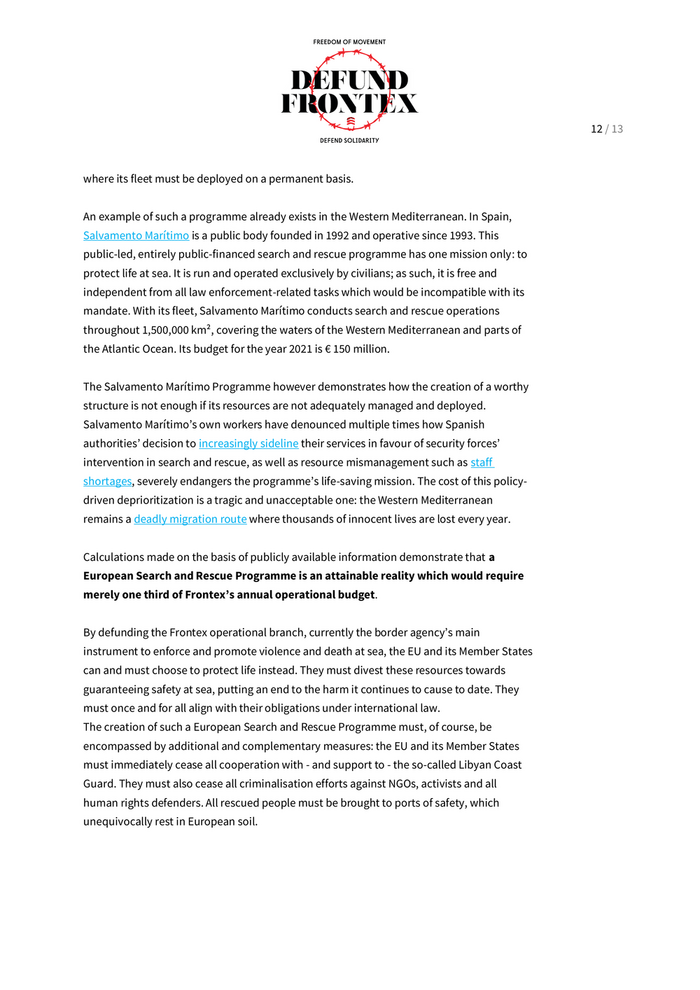 13 / 13 The campaign "Defund Frontex – Build a European Search and Rescue programme" is supported by: •   ARGOS - International Observatory for Migration and Human Rights •   ASGI – The Association for Juridical Studies on Immigration •   Balkanbrücke •   Baobab Experience •   Border Violence Monitoring Network •   Borderline Europe – Menschenrechte ohne Grenzen e.V. •   Borderline Sicilia •   FragDenStaat •   HuBB – Humans Before Borders •   Leave No One Behind •   Mare Liberum e.V. •   Mediterranea Saving Humans •   M.V. Louise Michel •   Open Arms •   Resqship e.V. •   Sächsischer Flüchtlingsrat e.V •   Sarah – Search And Rescue for All Humans •   Sea-Eye e.V. •   Sea-Watch e.V. •   Seebrücke •   SMH – Salvamento Marítimo Humanitario •   Watch The Med Alarm Phone This document was researched and authored by organisations FragDenStaat and Sea-Watch. It was published in August 2021.