44 organisations demand that Frontex withdraw the invoice
Not only thousands of individuals, but also dozens of civil society organisations are now demanding that Frontex withdraw its bill against us. We document their open letter.

Civil society is standing strong: 44 organisations from all over Europe have demanded in an open letter from Frontex that they withdraw their intimidating bill against us and respect the fundamental right to information. It is precisely in these days that the importance of being able to publicly control powerful institutions is once again becoming clear. Access to information is particularly important for this.
Our petition has collected more than 83 000 signatures. If you have not yet signed, you can do so here. Thank you very much!
To the attention of Mr Fabrice Leggeri, Executive Director of the European Border and Coast Guard Agency (Frontex), and Mr Hervé Caniard, Head of Legal and Procurement Unit: On 31 January 2020, the European Border and Coast Guard Agency (Frontex) sent Luisa Izuzquiza and Arne Semsrott an invoice claiming € 23,700.81 in legal costs, establishing a deadline for compliance of 28 days. The recipients are two freedom of information activists and the applicants in the first access to EU documents case against Frontex before the 1 General Court of the European Union. In light of Frontex's claim, we are writing to demand Frontex refrains from pursuing any financial compensation for a legal challenge aimed at defending and protecting a fundamental EU right. We are also writing to express our concerns regarding the implications of Frontex's action when it comes to civil society's ability to protect and defend fundamental rights in the EU. Choosing to impose high legal fees on human rights defenders and civil society actors effectively creates a chilling effect on the exercise of the right of freedom of expression and freedom of assembly and association. It also deters future legitimate and lawful attempts to defend fundamental rights before EU courts. To this regard, we condemn Frontex's conduct in the present case, which we consider inadmissible for an EU agency. We are therefore calling on Frontex to: ● Cease all attempts to create obstacles or impediments that would allow further and future litigation initiatives, especially when it comes to the defence of human rights. ● Commit not only to respect, but to fully ensure it enables the exercise of fundamental rights such as the right of access to EU documents and the right to freedom of expression. ● Retract their invoice for costs regarding case T-31/18, and make a pledge the agency will never again attempt to impose legal fees on civil society actors seeking to defend fundamental EU rights before the courts. We recall that initiating legal proceedings in order to defend a right is a legitimate practice under democratic systems that abide by rule of law; it is a course of action that should be protected, not precluded or deterred. 1 http://curia.europa.eu/juris/fiche.jsf?id=T%3B31%3B18%3BRD%3B1%3BP %3B1%3BT2018%2F0031%2FJ&oqp=&for=&mat=or&lgrec=en&jge=&td=%3BALL&jur=C%2CT %2CF&num=T-31%252F18&language=en&avg=&cid=7522255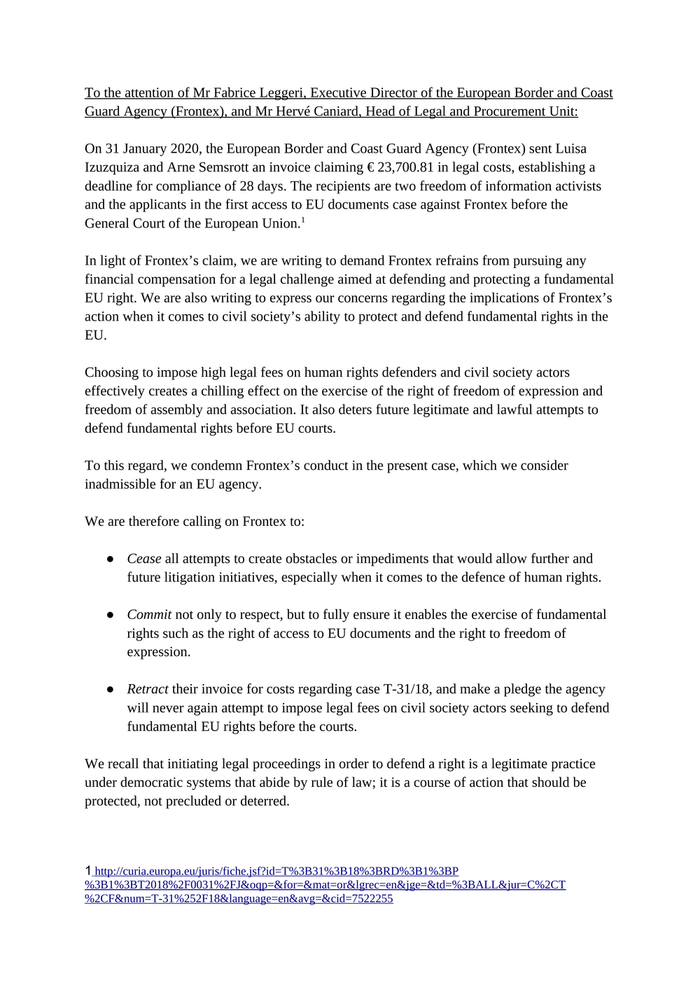 Signed: Access Info Europe Agir pour la Paix Alarm Phone ARTICLE 19 Associazione per gli Studi Giuridici sull'Immigrazione (ASGI) Attac España Attac France bordermonitoring.eu Border Violence Monitoring Network Campaign Against Arms Trade Centre Delàs d'Estudis per la Pau Centre for Peace Studies Zagreb Citizens Network Watchdog Poland Civil Society Europe Client Earth Coalizione Italiana per le Libertà e i Diritti civili (CILD) Corporate Europe Observatory (CEO) Correctiv Diritto di Sapere Ecologistas en Acción ePaństwo Foundation European Alternatives Forum Informationsfreiheit (Freedom of Information Forum Austria) Friends of the Earth Europe Fundación Ciudadana Civio Global Justice Now Gong Greenpeace K-Monitor Migreurop mySociety Open Knowledge Foundation Germany Open Knowledge France Platform for International Cooperation on Undocumented Migrants (PICUM) Sea-Watch Statewatch Stop Fuelling War Stop Wapenhandel The Good Lobby Transnational Institute (TNI) Tractie Vouliwatch Vredesactie WeMove Europe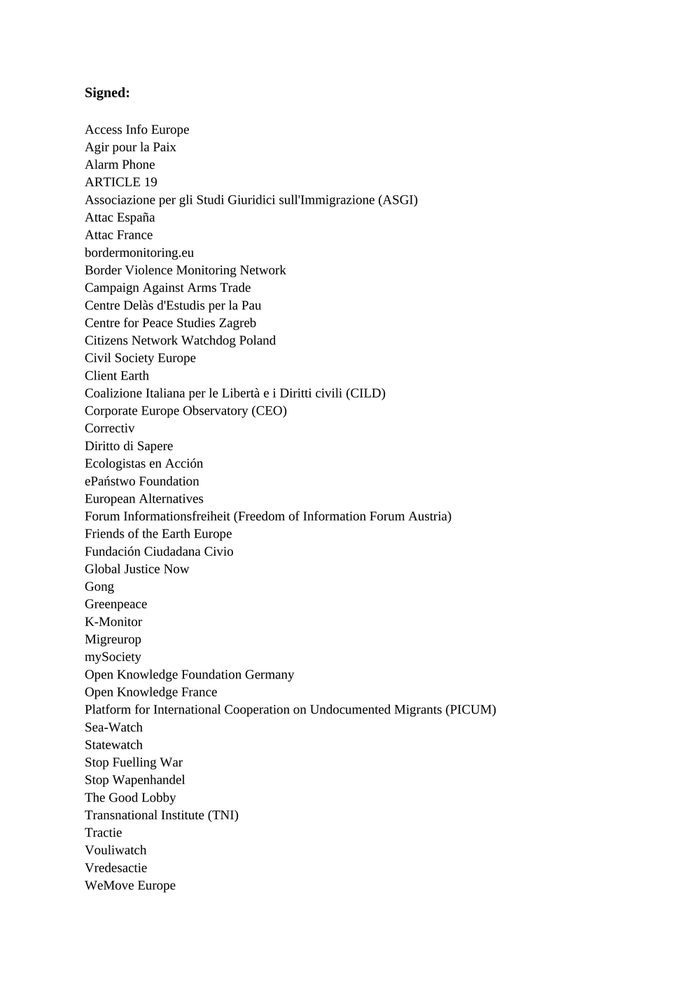 This article is available in other languages.