–
Exclusive: Internal diplomatic report on "concentration camp-like" conditions in Libyan refugee camps
The EU is cooperating ever more closely with Libyan militias to prevent people from fleeing to Europe. A wire report published by the German Federal Foreign Office after our Freedom of Information request shows the conditions under which refugees have to live in Libya.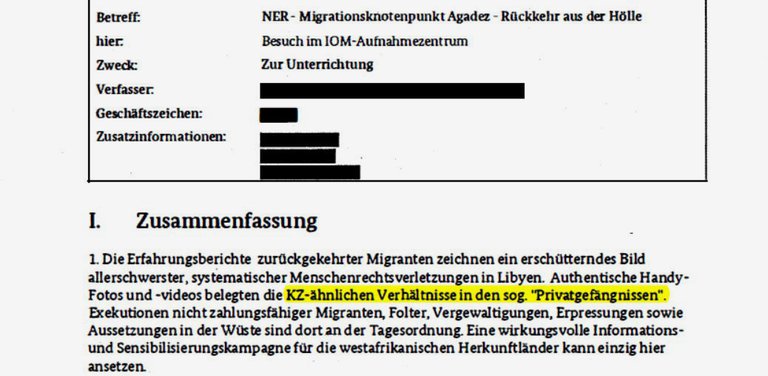 Seven years after the death of dictator Muammar al-Gaddafi, Libya is once again an important partner of the European Union. Although the country continues to be marked by internal power struggles, the EU's cooperation with the North African state is becoming ever closer. Italy, for example, recently decided to connect Libya to the Italian Navy's communication system.
Apparently, the European Union's asylum policy leads to refugees being deported to Libya in violation of international law. The German TV magazine Monitor, for example, states that "Libyan militias apparently have no inhibitions whatsoever to sacrifice human lives when it comes only to enforcing the European policy of isolation".
"Back from hell"
Not only journalists but also diplomats themselves report on the fate of refugees in Libya. A wire report by the German Federal Foreign Office entitled "Return from Hell" shows that the situation in Libyan refugee camps is catastrophic. We publish here for the first time in full the report of 2017, which we received in response to a request under the German Freedom of Information Act.
In it, the officials describe, for example, that "authentic mobile phone photos and videos" proved the "concentration camp-like conditions" in so-called private prisons in southern Libya. The diplomats go on to write: "Executions of insolvent migrants, torture, rape, extortion and suspensions in the desert are the order of the day there." Executions and rapes are also described:
"Eyewitnesses spoke of exactly five shootings a week in a prison - with an announcement and on Fridays to make room for newcomers."
Publication only after objection
In December last year, the German government announced that it would donate up to 20 million euros to the UNHCR for its work in Libya. As the German newspaper Welt am Sonntag reported a year ago, the Federal Foreign Office's main focus is to prevent people from fleeing to Europe. The diplomats conclude that a "successful European strategy against illegal migration" must, among other things, combat the causes of migration and promote the return of migrants to their country of origin.
It is a surprise that the Federal Foreign Office publishes the report at all. At our original request in September, the document remained under lock and key. Only after our opposition did the Office issue a partially blacked-out version of the report - one of the few cases in which an opposition was at least partially successful.
This article is available in other languages.