See Something, Say Something! A Call to Frontex Officials
Protecting human rights is not an option – it's a duty. Our new campaign calls on the staff of EU border police force Frontex to blow the whistle when they see wrongdoing.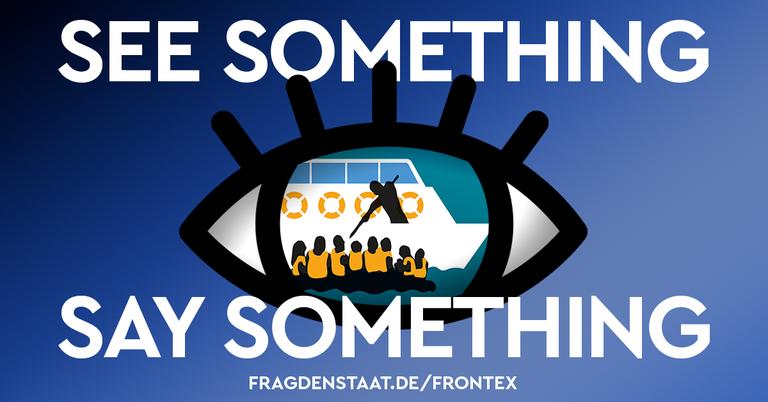 For over a month, current and former Frontex employees have encountered ads like these on their LinkedIn timelines:

From today onwards, as Frontex staff drive or commute to the Frontex headquarters in Warsaw, they will also encounter advertisements and billboards like these ones:
It's our latest campaign which targets the employees of the EU's border police force Frontex with one main message: if you see something, say something. We're calling on Frontex officials to blow the whistle whenever they see wrongdoing and rights abuses taking place.
Why: an infamous human rights record
Human rights violations have become routine and norm at Europe's borders. Violence and rights deprivation against people who migrate spread throughout the Mediterranean Sea and along the EU's eastern borders, taking different forms but with one common thread: Frontex.
Over the past years, multiple investigations and evidence have exposed Frontex's participation and complicity in human rights violations. In Greece, Frontex has conducted and enabled illegal pushbacks into Turkey. In the Central Mediterranean, Frontex collaborates with the so-called Libyan Coast Guard in order to drag boats back into Libya, where people face "concentration camp-like" conditions. In Bulgaria, Frontex stands by while 'black sites' are being run in order to detain people before being illegally deported. For its involvement in these acts, Frontex is currently being accused of committing crimes against humanity before the International Criminal Court, and is facing several lawsuits before the General Court of the EU.
Publicly, Frontex routinely denies any involvement or wrongdoing. Internally, however, a paper trail proves otherwise.
As the EU's anti-fraud agency (OLAF) revealed during its recent Frontex investigation, when rights violations take place, Frontex officials who bear witness often document and report what has happened. What OLAF also uncovered is a concerted and systematic effort within Frontex to cover up these reports and evidence. The result is widespread impunity and a continuation, if not escalation, of violence at the EU's borders.
Reports of human rights violations cannot be covered up, ignored or held secret. This secrecy protects perpetrators of border violence and puts further innocent lives at risk. Instead, knowing what is happening at the borders is in the public interest, and the very first step towards ending abuse.
Protecting human rights is not an option, it's a duty – one over which secrecy should never prevail.
A call to Frontex officials: see something, say something
Whistleblowing is an essential democratic instrument. This is why our campaign targets Frontex staff directly, online and offline, calling on them to blow the whistle when they witness abuse.
Our ads remind Frontex officials of the findings of the OLAF report, which should never be repeated again. We also highlight Frontex officers' own experiences, as narrated to OLAF, when trying to report abuses they had witnessed, and how they were wrongfully silenced or intimidated.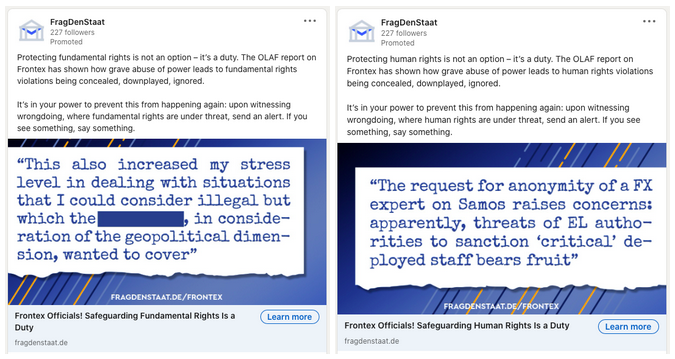 For the coming weeks, the border agency's staff will encounter our banners on their way to work. Our online ads will also run intermittently throughout the coming months. We seek to remind Frontex officials that their duty to safeguard human rights comes with the duty to raise one's voice when violations take place.
"Practices of the past"
In October 2022, in response to the publication of the OLAF report on Frontex, the border agency issued a statement where it referred to Frontex's human rights abuses as "practices of the past." But to date, Frontex has not taken any convincing action to ensure this.
In the meantime, Frontex has undergone a leadership renewal. After the resignation of former Executive Director Fabrice Leggeri in May 2022, a new Executive Director, Hans Leijtens, was appointed in December 2022. The appointment follows a selection process where the three candidates competing for the job, including Leijtens himself, pledged before the European Parliament they would correct the faults uncovered by OLAF if they were to become the border agency's leader.
However, Leijtens was already part of the Frontex leadership as a member of its Management Board, from 2019 to 2022, while these abuses were taking place… and being covered up internally.
Whether Frontex's illegal acts will become practices of the past is something only actions, not statements, can guarantee. It starts by Frontex officials raising their voice and blowing the whistle when they witness abuse and wrongdoing.
This campaign has been made possible thanks to the support of the WeAct Impact Fund.
This article is available in other languages.